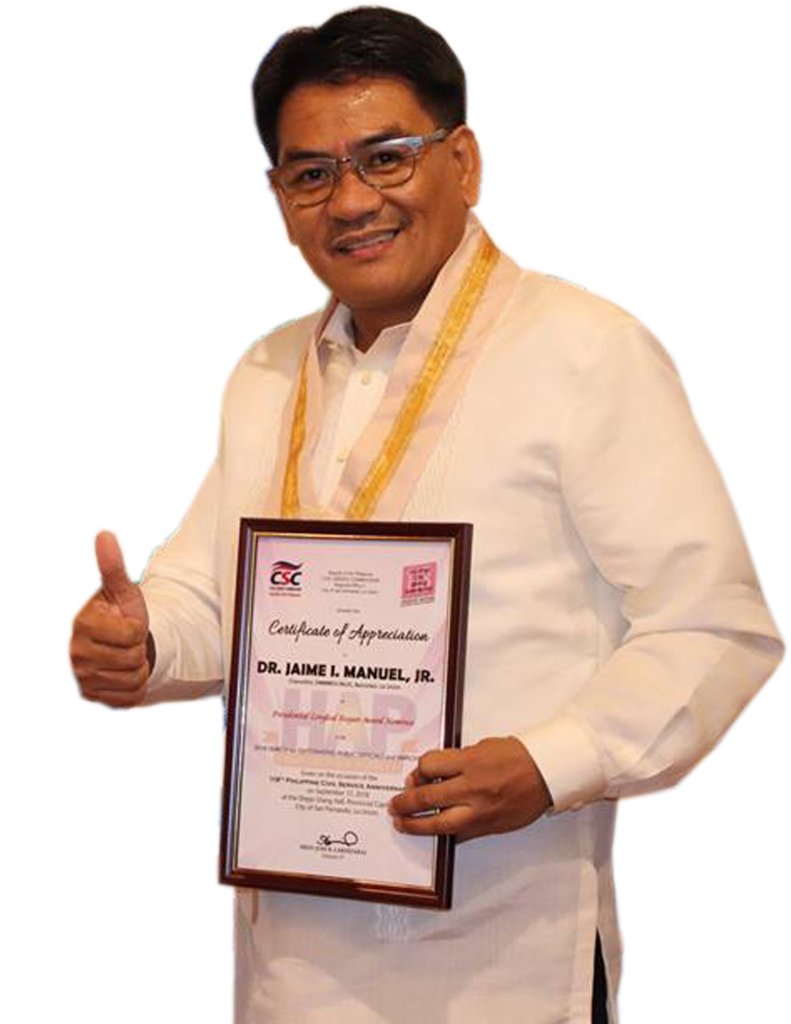 Dr. Jaime I. Manuel, Jr. graduated from DMMMSU-CAF Elementary School, DMMMSU-CAF Agri-Science High School, and finished his Bachelor of Science degree in Agricultural Engineering from DMMMSU-NLUC in 1991. Dr. Manuel was the President of DMMMSU University Student Council from 1989-1990. He finished his Master of Science in Rural Community Development degree in 2004, and his Doctor of Philosophy in Agricultural Education degree, from DMMMSU-NLUC in 2007. Before working in the academia, he worked as a Farm Technician and he subsequently served as Agriculturist I in the National Tobacco Administration from 1991-1992. He also served as an elected member of the Sangguniang Bayan of Bacnotan, La Union, for 9 years (1992-2001).
Prior to assuming the position of Chancellor of DMMMSU-NLUC (2010-2019), he has held various key positions in the university, alongside teaching duties, such as Student Affairs and Services Coordinator, University/Board Secretary, and OIC Director of Student Affairs and Services. Dr. Manuel has also represented DMMMSU-NLUC in several international conferences and trainings in Canada, New Zealand, Indonesia, India, Thailand, Singapore, and Taiwan, which further contributed to the universityºù«ÍÞapp™s establishment of international linkages.
The numerous local and international trainings and seminars, awards and recognitions, together with his initiatives throughout his professional career, have propelled the university to pursue even greater challenges. In addition to this, his knowledge, communication skills and social skills, as well as the variety of experiences, have paved new opportunities for the benefit of the university and its stakeholders
On February 8, 2019, he was officially appointed as the President of the Don Mariano Marcos Memorial State University. Dr. Manuel envisions a model university offering world-class programs, producing high quality graduates with a strong desire to care for the environment; a university that generates new knowledge & relevant technologies that improve the lives of the people in the community; a university that continuously provides relevant quality instruction, research, and extension services to the public; an institution that leads in the transformation of human resources into productive self-reliant citizens and responsible leadersºù«ÍÞapp"this which will make DMMMSU become a premier and globally competitive university.